Commercial and Residential Tint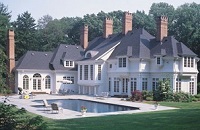 Stick To It Window Tinting
has been tinting residences, commercial buildings and vehicles for over 3 decades. We have the experience to take on any of your window tinting needs. Beautify your home and protect your blinds, shades and shutters as well as interior fabric, rugs, carpet and furniture from the harmful UV rays of the sun. We bring our tint and skills to you and tint your home or office at your convenience.
Help cool down those areas in your home where it is too hot. High heat rejection will provide you with energy savings and comfort. Stay cooler by reducing excessive heat in the summer months and reduce visual glare. We are extremely knowledgeable in the specific skills of Dual Pane glass tinting, Low-E Dual Pane tinting, and Single Pane Plate, Heat Strengthened and Tempered Safety Glass tinting.
Block the heat from your home and office and eliminate damage from the harmful UV rays to your interior fabric and furnishings. All window film blocks harmful UV rays -- even clear film will block greater than 99% of UV! Cool your home and office down with a wide selection of lifetime warrantied window films from
Stick To It
. We prefer
SunTek Window Film
, a trusted manufacturer of film for over 30 years.
If security is an issue at your home or office we have a complete line of safety and security films to help deter or even eliminate theft.
Having window film on your home can increase personal safety by keeping potential glass particles from flying into you and your home from vandalism, a golf ball or a baseball.
Feel comfort in knowing that
Stick To It
has
Advanced Tinting Certifications
and all of the state-of-the-art skills, equipment, tools, and window films to protect you in your car, home and office. Call today for a free estimate from a friendly knowledgeable installation specialist.
Remember...
Stick To It Window Tinting is an owner/operator Installation Specialist company established in 1994 and we abide by the window tinting industry standards set forth by the IWFA (International Window Film Association). We also offer free estimates.
We have many references and we subcontract for many major glass companies. Please make an appointment to visit our retail location and you will see Stick To It as an establishment in good standing and longevity since 1994 (please see our Reviews and References pages).
At Stick To It we are not "Independent Contractors". We install what we sell, so we are extremely familiar with the product and we will be held accountable as representatives of our company. We are not just a window tinting company we are also Decor experts.
We offer a large selection of films to meet your specific needs, not just one manufacturer. We have a long-standing relationship with many different film manufacturers, as well as continued research of the many available updated options for auto and architectural tint.
We may ask you specific questions and we may recommend product options that will meet your specific needs, such as light transmission, heat reduction, protection for fading from harmful UV and matching decor.
At Stick To It we have plenty of film inventories. However, we do require a 50% deposit on any film applications exceeding $1000. Special orders sometimes require a 60% deposit. Decorative and specialty films fall into this category.
Upon job completion, we will personally see that you receive a documented film manufacturer's warranty and/or a Dual Pane glass breakage and seal failure warranty. You will also receive a Bill of Sale that has our physical address, not a P.O. Box number.
After the installation is complete there will be a thin layer of moisture trapped between the film and the glass. As the moisture dries, you may notice small water bubbles under the film. These water bubbles will dry out. The drying process could take up to 30 days before the film has completely cured to the glass.
We have all of the latest equipment, tools, inventory and advanced training to complete the most challenging tint jobs. We can reach 25-foot high windows with our equipment. The products we use, all of our advanced installation training and installation procedures, references, manufacturers' warranties, and our expertise meet and exceed the window tinting industrial standards.
At Stick To It Window Tinting we stake our reputation on the products we sell, our prices, and our exceptional quality of work. We have made it our priority to ensure our customers that we stand by all that we do. Please be aware that not all installers, window films, products, and companies are created equal.