Safety & Security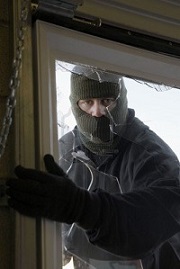 The most common examples for safety and security films are security film used for theft prevention on jewelry stores and pawn shops that have display windows and safety film for homes or businesses that have plate glass windows.
There are many examples where both of these types of films are used. These clear types of films can be applied to the exterior and/or the interior of the glass on your home or business. Many businesses exist in areas where anti-graffiti film would be helpful. Although usually not recommended, these films may also be applied to pre-existing interior solar film for security.
Most window film manufacturers make solar energy reflective security and safety film. The combination of security and rejection of solar energy all in one film. These combination films are considerably more expensive and usually do not come with as long a warranty period as standard solar films.
If you live in an area of high crime or even if you would like a little more peace of mind, it may be advantageous to apply safety/security film to your home to detour and prevent theft and/or personal injury.
These films are designed to bond glass particles together. If you live on a golf course, this can be very nice to have. This
glass retention
also makes it very challenging for anyone to make his or her way through the glass.
There are many variations of thickness of these clear and solar reflective films. They come as thin as 2 mil and as thick as 21 mil (the thickness of a standard cardboard shipping box).